Looking to elevate your Tex-Mex experience in College Station, TX? Look no further than Juanita's Tex Mex Cantina, where we're thrilled to announce our exciting partnership with 818 Tequila! We're bringing you an irresistible special that will satisfy your taste buds and keep your wallet happy. Join us for our exclusive $8.18 deal, available Sunday through Thursday from 2 PM to 6 PM.
Indulge in the smooth and vibrant flavors of 818 Tequila's Blanco as we offer $8.18 shots that will transport you to the heart of Mexico with every sip. If you prefer a refreshing twist, our Ranch Waters, featuring 818 Tequila Blanco mixed with sparkling water and a splash of lime, will be the perfect companion to beat the Texas heat. And of course, we couldn't forget the quintessential classic: our $8.18 Margaritas, crafted with precision and made with love, will leave you craving for more. From the moment you walk through our doors, prepare to be captivated by the authentic Tex-Mex experience and the delightful flavors brought to you by Juanita's Tex Mex Cantina and 818 Tequila.
Don't miss out on this unbeatable deal. Join us at Juanita's Tex Mex Cantina during our Sunday through Thursday happy hours from 2 PM to 6 PM, and treat yourself to the $8.18 special for Blanco Tequila shots, Ranch Waters, and Margaritas. We can't wait to share the magic of Tex-Mex and the finest spirits with you. Cheers to unforgettable moments and delectable flavors!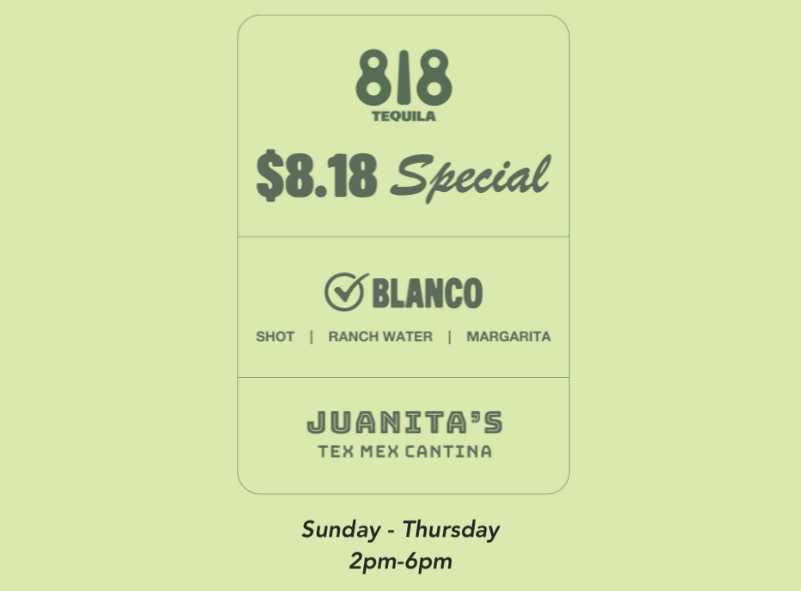 Link copied to your clipboard